K4 Womans Meetup- Increasing Women's Perspectives in Investing & Entrepreneurship
K4 Woman's Meet-Up
Increasing Women's Perspectives in Investing & Entrepreneurship
Tuesday, June 19th – 4:00 to 5:30 p.m.
You are cordially invited to participate in Keiretsu Forum's Woman's Meet-up on Tuesday, June 19th, 2018 from 4:00 pm – 5:30 pm. This meeting will commence at our Keiretsu Forum Offices.
Although, statistics show that companies perform better when women are part of leadership, women are still grossly under represented. For example: In those founding start-ups, in securing money for women-led companies and in women based investments. Join fellow entrepreneurs and investors as we brainstorm how to increase representation and participation from women in our investment and entrepreneurship community.
We look forward to your attendance and participation!
The Keiretsu Forum Northwest Team

Time/Date:
Tuesday, June 19th, 2018
4:00 p.m. – 5:30 p.m.

In Person:
Keiretsu Forum Offices
WRF Venture Center
2815 Eastlake Ave E, Suite 300
Seattle, WA 98102
For any assistance please email Diana Falcone diana@keiretsuforum.com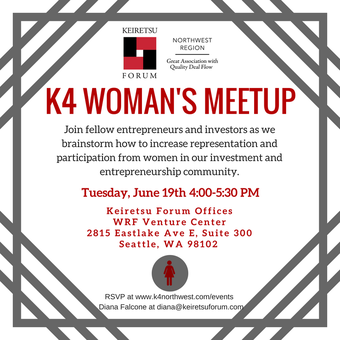 2815 Eastlake Ave E #300, Seattle, WA 98102, USA