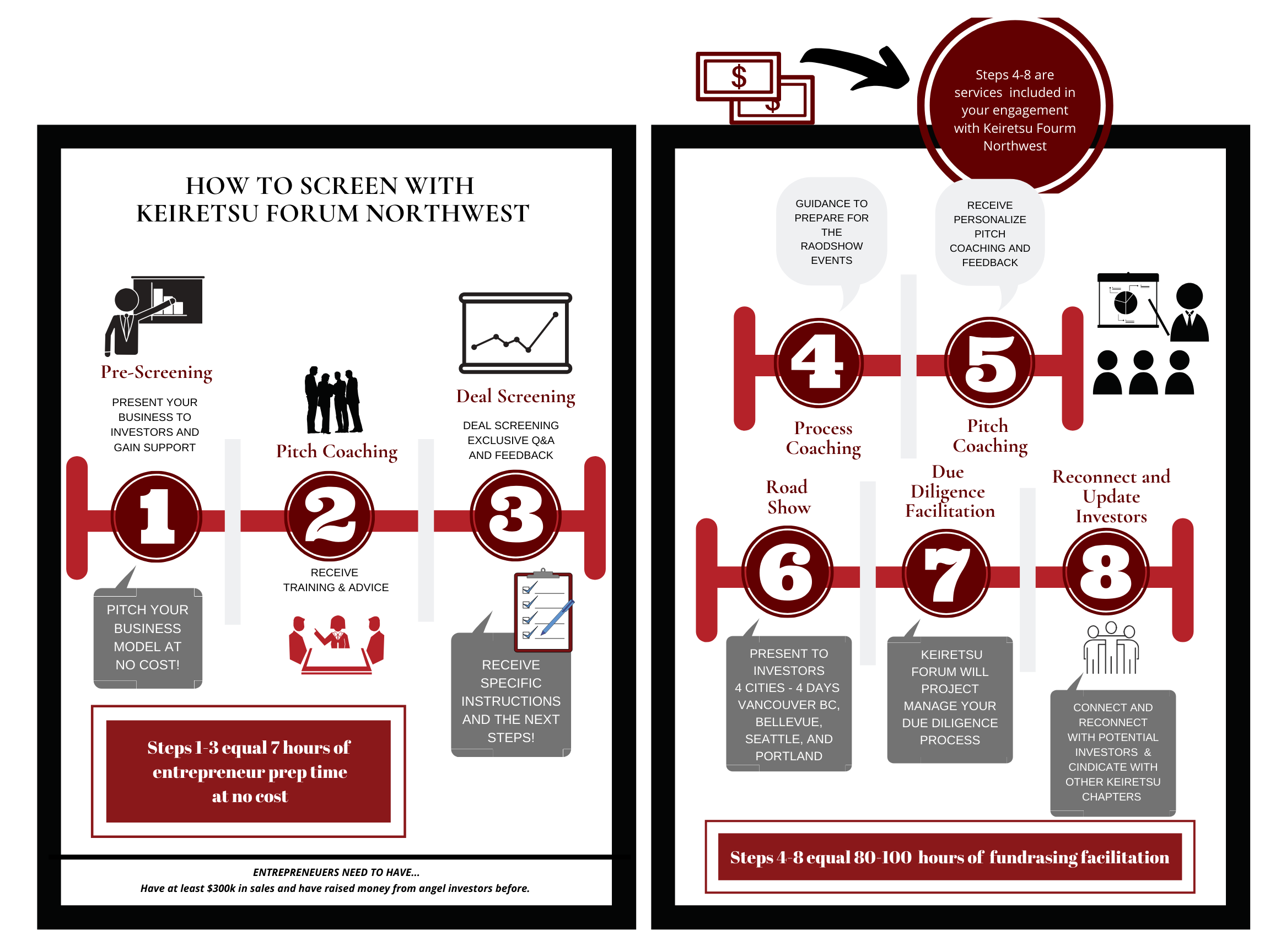 Keiretsu Presenting Process
Our quality deal flow often comes from our community of Members, Sponsors, and Community Partners including universities, government institutions, and entrepreneur groups. If you are interested in presenting to Keiretsu Forum, there is a simple, highly-structured process to go through to ensure that the best companies have the best opportunities to raise capital. As the process can be rigorous, we invite companies to speak with us directly to get a better understanding of the process before applying to present.
Step 1: Email your Pitch Deck PPT and Executive Summary to Juan Arango, Entreprepenur Director at Juan@keiretsuforum.com (Free)
Our pre-deal screening process involves assessing your company's match for our fundraising process first. In order to expedite this process, please send us your pitch deck ppt and a short executive summary for us to review and get back to you.
Step 2: Schedule a Deal Screening Call (Free)
After we've reviewed your pre-deal screening materials, we'll reach out to you to schedule a call. During this call, we'll ask some questions about your company, walk you through our full fundraising process, and determine whether or not your opportunity could be the right fit for our investors.
Step 3: Be Invited to Deal Screening (Free)
At the recommendation of the review committee, you'll be invited to our monthly Deal Screening. At this point, we'll coach you on what our investors are looking for in a presentation and ensure you have the best chance at getting invited to our Full Forum Road Show.
Step 4: Submit your Completed Application at Keiretsu Forum Entrepreneur Application (Free)
This application provides key company information that helps us make decisions within the screening process and is necessary for our deal flow pipeline. When applying, please do not include confidential information. 
Step 5: Present at Deal Screening (Free) Deal Screenings take place on a monthly basis in Seattle, usually on the first Wednesday of the month.
Deal Screenings in other locations such as Denver, Portland and Vancouver usually take place quarterly, based on interest. Companies who accept the invitation to present at the Deal Screening will give 15-minute presentations (7-min presentation, 7-minute Q&A) to a screening panel of 30 Keiretsu Forum Members. After all presentations have been given, the panel discusses and decides which companies are ready to present in front of the full forum. The invited deals are selected and presenting companies are notified of the outcome within 24 hours and Member comments and feedback are included.
Step 6: Accept Invitation to "Full Forums" & Pay Administrative Fee
Accepted companies will need to pay the Administrative Fee if they wish continue to the full forums. Confirmed companies are then scheduled to present to the full forum, typically within 1-2 months from the date of the screening based on availability. Note: Only entrepreneurs who make it past our intensive pre-screening filters and present to our full forums are required to pay the Administrative Fee.
Step 7: Schedule Presentation, Process, Due Diligence and Deal Structure Coaching
Schedule one-on-one coaching with our team preceding the Forum presentations to learn the format familiar to our members, identify red flags and how to respond to them, and revamp your PowerPoint to maximize your impact. Preparation and fine-tuning at this stage is crucial to gaining investment once you begin the forums so let us help you!
Step 8: Present at the "Full Forum Road Show" - Six Chapters
Throughout the "Full Forums," four main companies will be featured in front of over 250 attendees with 20-minute presentations (10-min presentation, 10-min Q&A). After all presentations have been given, entrepreneurs are excused from the room and members discuss the presenting companies. Each presenter is brought back after the member discussion to answer a final question. Each attendee completes a 'gold sheet' to indicate investment interest in presenting companies as well write feedback and questions. The presenting companies are then given followup sheets of all of the feedback throughout the week as well as a list of investors who marked that they were interested in being followed up with. Less-successful companies will attract close to 30 sign-ups with the most successful companies garnering up to 50 sign-ups.
Wednesday: Boulder/ Boise / Rockies
Thursday: Denver / Salt Lake City / Rockies
Tuesday: Vancouver B.C. / Canada
Wednesday: Bellevue / Eastside
Thursday: Seattle / Northwest
Friday: Portland / Oregon
Step 9: Due Diligence
With Keiretsu Forum as liaison and facilitator, the presenting company connects with Keiretsu members who indicated interest on their gold sheet and begins the 6-10 week due diligence process.
Step 10: Optional - Update Presentations ("Update" Administrative Fees Vary)
At each Full Forum, we normally feature 1-3 update presentations from past presenting companies in addition to the the main four presenting companies. Past presenters pay an Update Presentation Fee to give a 3-minute or 7-minute update to the Full Forum. This includes a 2-page executive summary color insert in company information book and being listed on the Gold Sheet sign-up list (no Q&A session). Updates are available for our Denver, Boulder, Vancouver BC, Kirkland, Seattle, and Portland Chapters.
Step 11: Optional - Be Referred to Other Keiretsu Forum Chapters
After presenting to the eight Keiretsu Northwest  and Rockies Chapters and receiving investment traction from Members, presenting companies then have the unique opportunity to present to other chapters of their choice around the country or around the world. Members of each chapter conduct their own due diligence and make their own investment decisions, however they benefit greatly from shared due diligence and seeing what traction companies were able to gain from other chapters.
Contact: Please contact Keiretsu Forum Entrepreneur Director Juan Arango at juan@keiretsuforum.com or (206) 910-0322 with any questions about presenting. Feel free to ask about attending a Forum as a one-time guest to observe our unique process before deciding to start the presentation process.