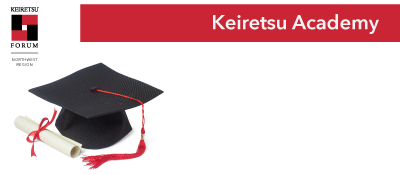 Join us to hear from our favorite tax experts at R.D. Barnett!
Keiretsu Academy Topic:
The new tax law changes everything and nothing - this mega tax update is going to be informative! The spoiler alert is tax law is now more complicated than ever and planning is needed to take advantage of opportunities and avoid pitfalls. Join us, and some special guests, as we present a look at all the major changes to the tax code for the 2021 filling season.

There will be plenty of time for Q&A and we will be having interesting guest speaker join us.
Registration:
Zoom Registration Online: https://zoom.us/webinar/register/8216063426227/WN_lWykAsAFSYCb9kyCXLXasg

Additional Event Details - The following topics will be covered:
2020 Year In Review
C Corporations

Tax law impact

Tax Rates

NOLs

Depreciation

Interest Expense Limitation

R&D Credits

Other Items to Note

Flow Through Entities and Individuals

Tax Rates

Qualified Business Income

Section 1202

Section 1244

Itemized Deductions

Other fun stuff
Speaker Bios:
Dean Barnett, CPA - Managing Member
In college, Dean dreamt of being an entrepreneur. However, entrepreneurship proved to be difficult without money, skills, or ideas. As a result, he became an accountant. Little did he know, a career in public accounting would ultimately lead him back to his dream of being an entrepreneur. His journey has been marked by a small period of time at a local Seattle accounting firm, a significant amount of time at PwC, a detour through real estate sales, finance and development, and finally the founder of R.D. Barnett PLLC: a growing accounting, tax, and advisory firm.
Early in Dean's career he focused on private companies that ranged in size and complexity; including everything from large family owned companies to newly funded technology start-ups. This provided Dean with a strong foundation for understanding the tax implications of young and mature operating companies. Prior to leaving PwC, Dean managed the tax compliance and consulting for a $6 billion open ended global fund. Clients relied on him to provide specialized compliance and consulting solutions around a sophisticated capital stack, complex investments, and special allocations. Today, Dean is combining those experiences to offer a unique skill set of services to like-minded entrepreneurs.
Dean is an active member at Inglewood Golf Club, a season pass holder at Steven's Pass, and a participant on a Co-Ed dodgeball team organized through Underdog Sports. He also finds great joy as director of the Western Golf Association where he is actively involved in the Evan's Scholars Foundation. The Foundation exists to send golf caddies to universities across the country on full scholarships.
Brian Parsons, CPA - Managing Member
Brian has diverse experience working with fortune 500 public companies and private companies alike. Having spent the majority of his career at PwC, Brian's passion for working with private companies is the reason he joined R.D. Barnett in late 2016. Brian's focus is advising clients on how to incorporate overall business and tax plans, increasing cash tax savings, reducing their rates and mitigating risks through documentation and compliance. Brian delivers his passion for advising private companies in multiple industries with deep experience in the technology, real estate, manufacturing, health care, life sciences and retail industries.
Brian is enthusiastically involved in the Pacific Northwest community, most notably having served as a Board member and finance chair for the Seattle Chapter of Summer Search, the Tax Advisory Counsel for Golden Gate University and the Board of College of Business and Education for Western Washington University. Brian is married to his college sweetheart and they reside in the Green Lake neighborhood with their French Bulldog.
Virtual Event Location:
Online via Zoom Meeting - A Zoom link will be sent in the confirmation email to registered members and approved guests along with a calendar invitation.
Event Date/Time:
Friday, January 8th, 2021
1:00 PM - 2:00 PM Pacific Time
2:00 PM - 3:00 PM Mountain Time
Contact:
Member or invited guest? Log In to RSVP for events.
New to Keiretsu? Register first, then you can RSVP for events.
Forgot your password? Click Here to reset your password with your email address.
Questions? Please call 206-529-3687