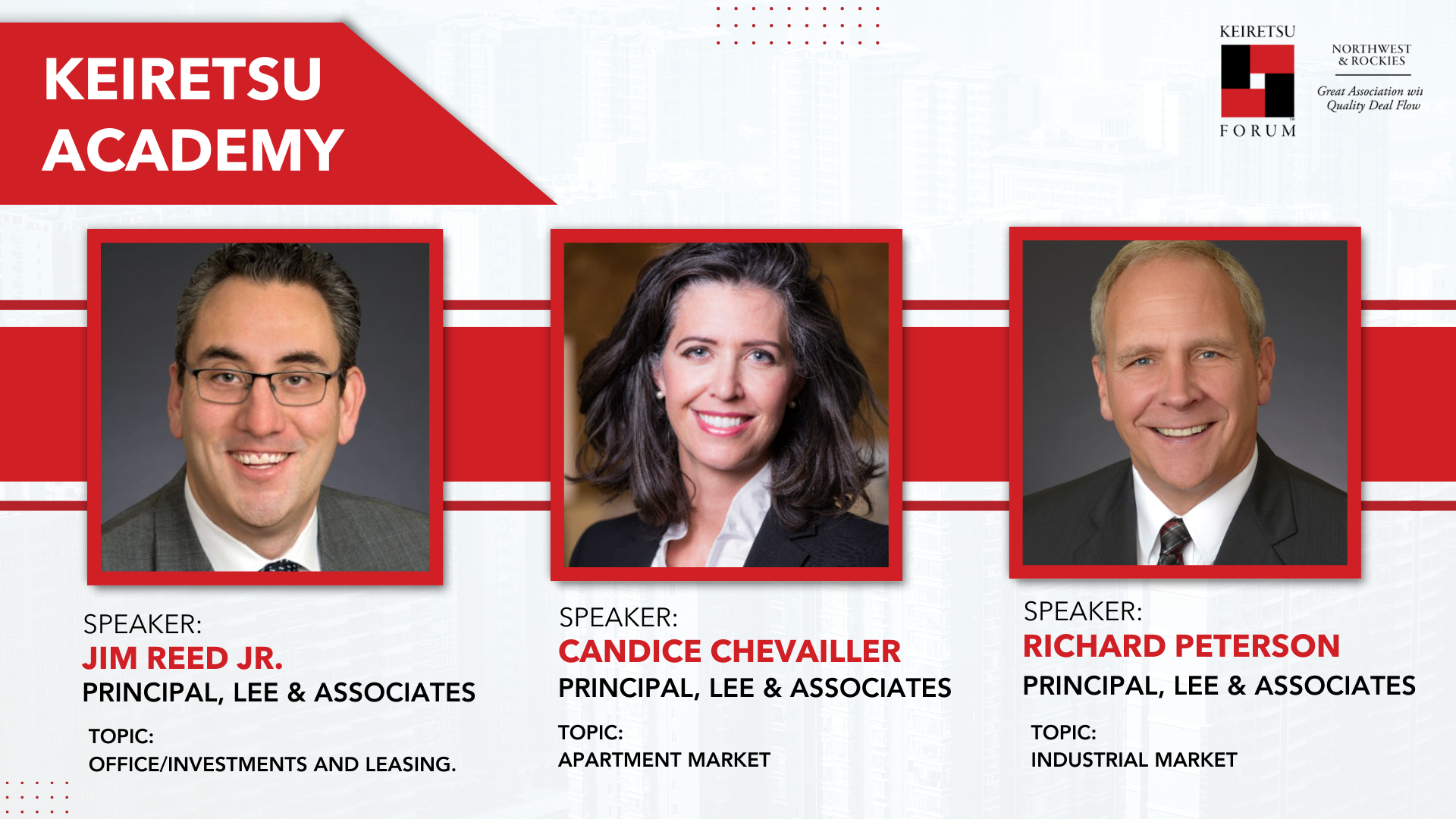 You are cordially invited to join us at our upcoming Hybrid Keiretsu Academy. Join us to learn more from our three featured keynote speakers who will speak on topics surrounding the Commercial Real Estate Market. We have a great panel of speakers and their topics mentioned below,
Mr. Jim Reed Jr. on the topic Office/Investments and Leasing;
Ms. Candice Chevailler on the topic Apartment Market;
Mr. Richard Peterson on the topic Industrial Market.
We look forward to learning more about the U.S. economic outlook and the implications for real estate investors. The Keiretsu Team looks forward to your participation and engagement at this exciting event.
Those interested in attending our event in person at our office, please purchase a ticket or if you wish to attend virtually kindly register on the zoom link below.
Keiretsu Academy Virtual Registration:
Please click the Zoom Registration Link below to complete the registration form to attend:
https://us06web.zoom.us/webinar/register/8516812368186/WN_BzaleECURe2vbcyHn8pRJA

Event Contact:
In Person: Please email Courtney Ebberson @ cebberson@keiretsuforum.com for assistance with in-person registration.
Virtual: Please email Lenin Fernandes @ lenin@k4northwest.com for assistance with virtual registration.
Event Date/Time:
Friday, June 2, 2023
12:00 - 1:00 PM Pacific Time
1:00 - 2: 00 PM Mountain Time
In-person Event Location: WRF Capital building, 3rd floor, Conference Room #2
Address: 2815 Eastlake Ave E Suite 300, Seattle, WA 98102
Parking Information: Street parking is available on Eastlake Ave E, E Hamlin St. and Fairview Ave E near the building. Garage parking is available underneath the building as well and can be accessed off E Hamlin Street.
Virtual Event Location:
Online via Zoom Meeting - A Zoom link will be sent in the confirmation email to register members and approved guests along with a calendar invitation.
Online Meeting Best Practices:
Online Meeting Best Practices Guide
Click Here for a PDF Download
RSVP:
Member or invited guest? Log In to RSVP for events.
New to Keiretsu? Register first, then you can RSVP for events.
Forgot your password? Click Here to reset your password with your email address.
Questions? Please call 206-529-3687
2815 Eastlake Ave E, Seattle, WA 98102, USA