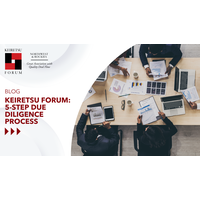 Due diligence is an investor's first opportunity to explore potential investments. This is the process of reviewing, investigating, and validating investment opportunities to confirm all relevant factual and financial information.
Did you know that the due diligence process is the most important step in safeguarding investor interests? Failure to conduct proper due diligence can lead to poor investment decisions. It is in the best interest of angel groups like Keiretsu Forum to conduct due diligence as we facilitate funding.
Entrepreneur and Due Diligence Director Juan Arango created the first due diligence (DD) process for Keiretsu Forum by taking a 500+ page manual created by Michael Grounding and turning it into a functional process. The goal of Keiretsu Forum's current due diligence process is to provide members with the structure they need to make informed investment decisions. Our due diligence process has evolved steadily since its inception to provide investors with a 360-degree view of the company they wish to invest in, and our revised process ensures a complete report within 4-6 weeks.

Keiretsu Forum 5-Step Due Diligence Process
Here is a step-by-step guide of our process.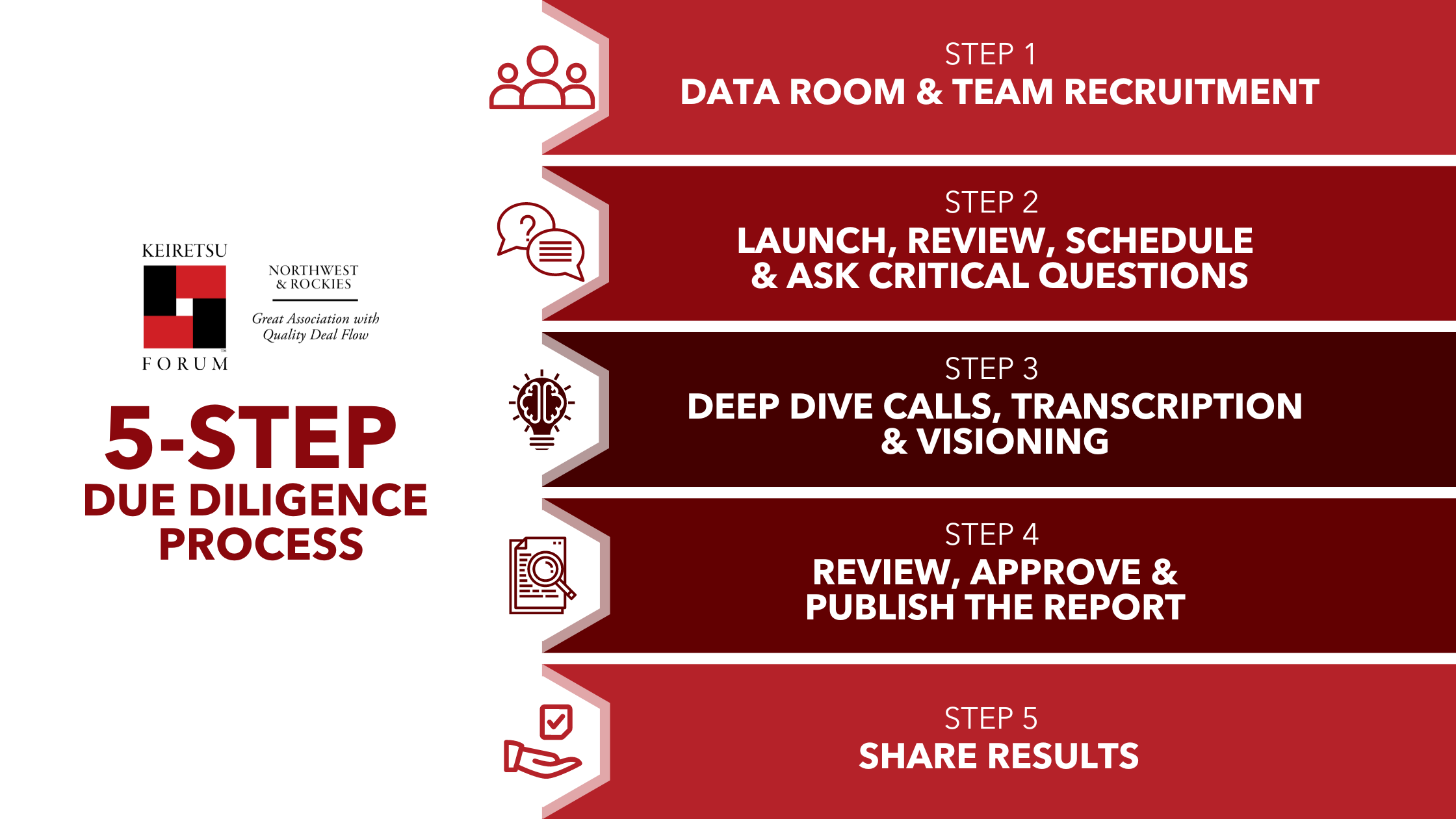 Step 1: Data Room and Team Recruitment
To begin the due diligence process, it is important to fill out the data room with information about the company and attach the specific documents requested by the Keiretsu Forum team. Without complete data, the due diligence process cannot begin. Secondly, when recruiting a due diligence team, it is the entrepreneur's responsibility to take charge of the process. You need to keep this in mind and invite angel investors who are excited about your company and who will likely write checks. Keiretsu Forum members are experienced in conducting due diligence and know-how to handle the process. But it is up to the entrepreneur to invite the right investor to join their team. To choose the right investor, you need to talk to them and understand their investment ability and willingness. If you feel an investor is the right fit, but they are currently not investing any capital into companies, instead of trying to convince them it is advisable to look for someone else. The optimal number of investors on the due diligence team is no more than 5-6 people. You also want investors to have expertise in different areas such as finance, technology, etc. so that they can use their expertise in the DD process.
Step 2: Launch, review, schedule & ask critical questions
This stage of the due diligence process includes the launch, review, scheduling of deep-dive calls, and creation of questionnaires. The Keiretsu Forum team will facilitate this process and help resolve any issues along the way.
Step 3: Deep dive calls, transcription & visioning
At this stage of the process, the due diligence team & entrepreneur will be in regular communication through the deep-dive sessions. These calls can often last up to an hour or more and focus on what the due diligence team wants to know about the company. Members of the Keiretsu Forum team are on hand to transcribe every deep dive call. After each deep dive, the Keiretsu Forum team captures, cleans, edits transcriptions, and adds them to the "DD Notes" document, which is in a question-and-answer format. This document, also known as the first version of the DD report, is shared with the due diligence team to review and ensure all data is correct. Ideally, it would take anywhere between four to seven deep dives to get all the necessary data from the company.
Step 4: Review, approve & publish the report
As we enter stage 4 of the Due Diligence process, the Keiretsu team produces a document called a "Zero/Rough Draft", which is a combination of all the data received so far from the deep dives. The document is divided into sections and formatted for ease of reading. The task of the due diligence team and entrepreneur is to review the data represented in it and ensure that it is accurate. If any data is missing, you can add it as well. We urge everyone to use the "Track Changes" option in the document so everyone knows what changes were made to the document and by whom. Once all changes have been made and the document beautified, the document will enter a final stage called a "Final Draft" format.
Step 5: Share results
In the 5th and final stage of the process, the Keiretsu Forum team adds logos, executive summaries, Term Sheets, investor references, investment reasons, potential challenges, background checks, etc., to the final draft. We also clean up the language to make it seem like it was written by a third party and add a template to match the look of our professional DD reports.
Two additional considerations:
Weekly Status Call: We ask investors to set up a weekly status call. They can last 15 minutes but not more than 20 minutes, and the purpose of these calls is just to find out what due diligence work has been done in the past week and what is in the pipeline.
Updating Investors: Entrepreneurs send weekly updates to investors outside the due diligence team who are interested in their company. This is just to keep investors informed about progress and ensure their continued interest in the company.
Common Due Diligence Assumptions
If you have never joined a due diligence team, you may have some questions! Here are answers to some common assumptions about the process:
Does every discussion between investors and entrepreneurs count as due diligence?
Yes, this is correct! Every conversation between an investor and an entrepreneur counts as due diligence. After all, every conversation about the business might eventually lead to a potential investment.
Do checklists and templates limit the scope of work?
Yes! Checklists and templates limit the scope of the regular workflow. Professional angel investors have long known how to conduct due diligence on companies. We believe that by suggesting conversation topics, we are not utilizing their expertise. Our goal is to let investors take the lead and get answers to the questions that they are interested in.
Can an investment decision take up to 4 weeks?
Yes! With Keiretsu Forum's new due diligence process, it can take anywhere between 4-6 weeks to make an investment decision.
Are the deep dive sessions recorded and transcribed?
Yes! We urge investors and entrepreneurs to record all deep-dive sessions. We do this simply to capture important conversations, thought processes, and questions of all investors. This gives us the basis for a very solid due diligence report. For example, professional angel investors will ask 90% of the questions that any investor will want to know.
Will the due diligence team be required to write reports?
No! Our new due diligence model ensures that all conversations are recorded and transcribed. All angel investors and investors involved in the due diligence process are not required to write reports. The Keiretsu team will capture the recording, transcribe, edit and share the document with the entrepreneur and the due diligence team to clean up the language and ensure all data points are correct and all questions are answered. As a result, the due diligence team does not have to write any reports, just revise the document to ensure completeness and accuracy.
Can a due diligence report be shared?
Yes! There will be one single sharable link for the due diligence report.
Is due diligence for potential investors a sales process?
Yes! Due diligence by potential investors is considered part of the sales process. If you can talk to investors and convince them to put money into your business, it's a deal! Therefore, it is important to consider this as part of the sales process, and the central theme of all discussions should be to answer key questions from investors.
Due Diligence Best Practices
Below are some of the best practices suggested by Entrepreneur and Due Diligence Director Juan Arango for speeding up the due diligence process.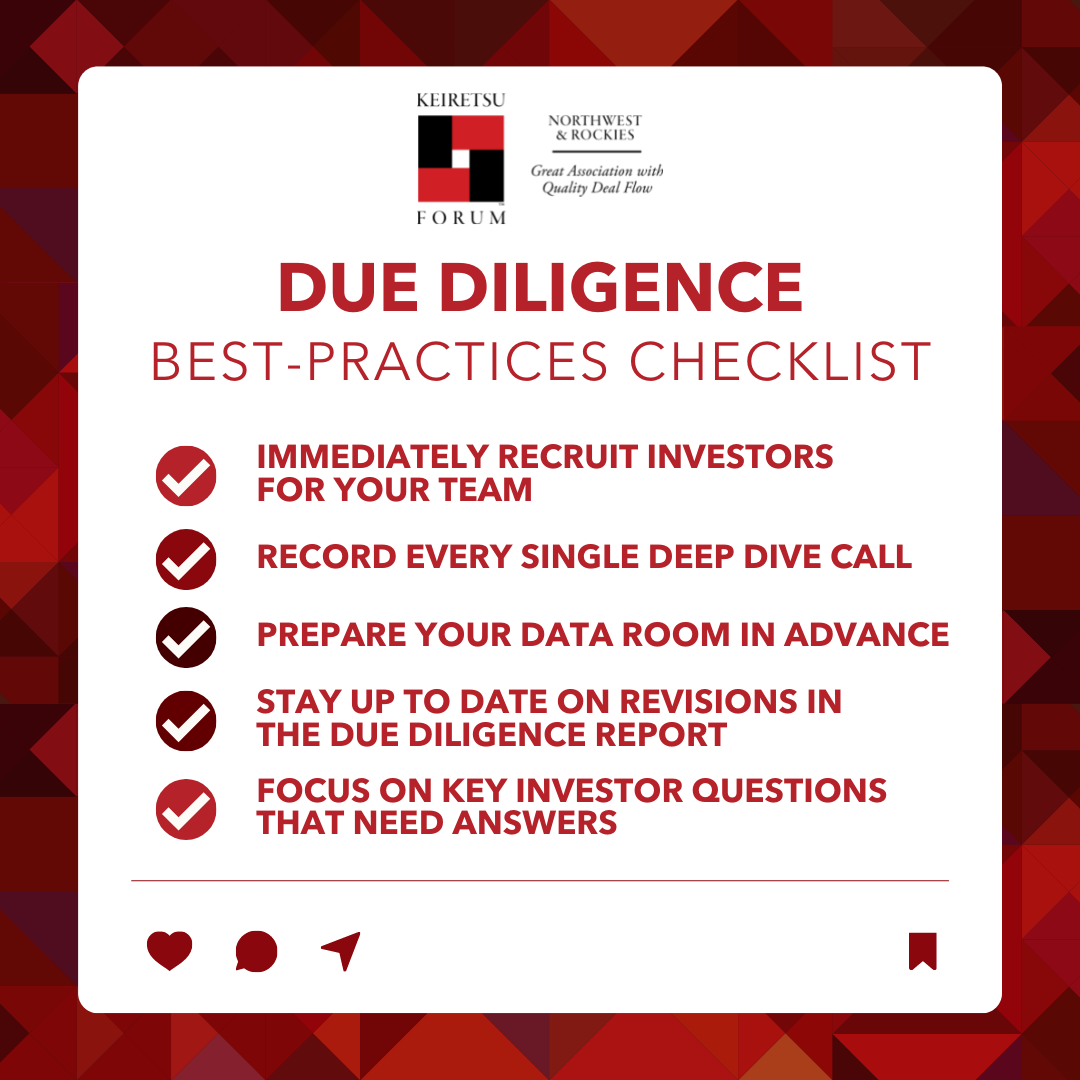 Immediately recruit investors for your team: Start by assembling your due diligence team. A team can consist of 5-6 angel investors.
Record every single deep dive call: Record every deep dive call and send the recording to the Keiretsu Forum team for transcription.
Prepare your data room in advance: Create and populate your data room so investors can easily access all the information related to your company.
Stay up to date on revisions in the Due Diligence Report: Constantly track changes in the due diligence report and answer questions from investors instantly.
Focus on key questions that need answers: Focus on the key questions investors ask so that their queries are resolved and they feel more confident writing checks.
To learn more about Keiretsu Forum's Due Diligence process, visit here.
---