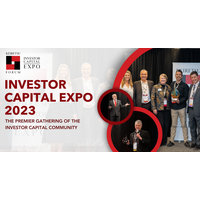 2022 was a phenomenal year for Keiretsu Forum members as they invested $73.8 million in 106 innovative startups at a staggering average of $696K raised by each company.
SEATTLE, WA – Keiretsu Forum Northwest & Rockies hosted the Investor Capital Expo 2023 on April 6th at the Microsoft campus in Redmond, Washington. Over 320 attended the event in-person, and over 200 joined the global broadcast. Seventeen growth-stage companies presented ground-breaking innovations, and investors got an opportunity to engage with these companies through several rounds of Q&A resulting in over 1,000 indications of investment interest.
The Expo also featured a stellar line-up of keynote speakers - Angel Capital Association's Vice Chair, Ronald Weissman, Microsoft's Principal Program Manager, Adina Trufinescu, Bernstein Private Wealth Management's Vice President, Troy Niehaus, and 7BC Venture Capital's, Andrew Romans.
The Expo showcased the latest in cutting-edge technology, from clean tech to artificial intelligence to life sciences and more. Out of all the companies that presented, EarthGrid claimed the top spot for the Most Valued Company, as voted by the investors using the Votegrity platform. The runners-up were Cascadia Seaweed which came in second, and OtoNexus Medical Technologies bagged third place. Keiretsu Forum member George Feil was awarded the Most Valued Member for his significant contributions to the growth of several startups.
The highlight of the event was the announcement that Keiretsu Forum Northwest and Rockies members had invested a total of $73.8 million across 106 startups in 2022, which is a testament to the continued growth and success of Keiretsu Forum.
"The Investor Capital Expo and the early investor community are incredibly important to support the growth of innovation. Now more than ever innovation needs private investor backing not only for capital but expertise and network alike," said Brianna McDonald, President of Keiretsu Forum Northwest & Rockies. "The Expo is a fantastic showcase of innovation and entrepreneurship, and we look forward to supporting and enabling these startups and growth-stage companies to develop and grow. They will impact how we work, live, and play in the years to come."
About Keiretsu Forum Northwest and Rockies
Keiretsu Forum Northwest & Rockies is the Pacific Northwest portion of Keiretsu Forum. It includes chapters in Vancouver (Canada), Denver/Boulder, Bellevue, Seattle, Salt Lake City/Boise, and Portland. Keiretsu Forum Northwest & Rockies has more than 400 members and has invested over $500 million since its founding in 2005. For more information, visit www.k4northwest.com
About Keiretsu Forum
Keiretsu Forum is a global investment community of accredited private equity angel investors, venture capitalists, and corporate/institutional investors. Keiretsu Forum was founded in 2000 by Randy Williams. Keiretsu Forum today is a worldwide network of capital, resources, and deal flow with 55+ chapters on four continents. Keiretsu Forum members invest in high-quality, diverse investment opportunities. To date, it has invested over $1 billion in 2000+ companies. The community is strengthened through its involvement in social and charitable activities. www.keiretsuforum.com
---