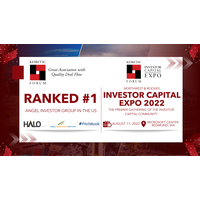 Keiretsu Forum Global Investor Network Ranked #1 Angel Investor Group, U.S. Region, by The Angel Resource Institute 2021 HALO Report based on the number of deals - lauds Keiretsu Forum's both local and global footprint. Read the full report here.
Keiretsu Forum is known by investors and entrepreneurs alike for its proven approach to originating quality deal flow and success in syndicating early and late-stage investment opportunities around the world. According to the report, "This year Keiretsu Forum's participation again put them in the top position nationwide. They are extremely active with deals in almost every state of the United States. They also participate globally and their global footprint is noteworthy."
"Keiretsu Forum continues to grow across North America and globally. Investors and entrepreneurs are benefiting from our unique footprint, disciplined process for originating quality deal flow, and success syndicating early and late-stage investment opportunities," said Randy Williams, Keiretsu Forum Founder and CEO.
Also, the Northwest Region of the Keiretsu Forum, the world's most active global investment community, announced today that the organization will host its "Investor Capital Expo," the premier gathering of the Investor capital community, on August 11, 2022 at Microsoft, Building 92, in Redmond, Washington. The event will feature more than 350 angel investors and a select group of 18 high-quality, diverse companies from some of the most exciting, burgeoning segments in technology, healthcare/life sciences, consumer products, and real estate. Keiretsu Forum investors will also elect the recipient for the "Most Valued Company Award" at the Expo. Get Your Tickets To The Expo.
"Keiretsu Forum Northwest & Rockies continues to attract some of the nation's fastest growing entrepreneurial companies and industry experts to join our members at The Investor Capital Expo," said Brianna McDonald, President of the Keiretsu Forum's Northwest Region.
About Keiretsu Forum:
Keiretsu Forum is a global investment community of accredited private equity angel investors, venture capitalists, and corporate/institutional investors. Keiretsu Forum was founded in 2000 by Randy Williams. Keiretsu Forum today is a worldwide network of capital, resources, and deal flow with 55+ chapters on four continents. Keiretsu Forum members invest in high-quality, diverse investment opportunities. To date, it has invested over $1 billion in 2000+ companies. The community is strengthened through its involvement in social and charitable activities.
---