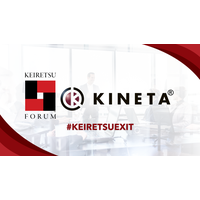 Seattle-based biotech company Kineta to go public alongside neuroscience firm Yumanity Therapeutics.
SEATTLE, WA, July 7, 2022 – Another successful exit for our portfolio company!
We are happy to share that Keiretsu Forum's portfolio company Kineta will merge with Yumanity Therapeutics in an all-stock transaction, which will advance Kineta's potential best-in-class VISTA-blocking immunotherapy.
Under the second definitive agreement, Kineta will become a wholly-owned subsidiary of Yumanity, and the combined public company will be renamed Kineta, Inc., which will focus on immuno-oncology and continue Yumanity's ongoing research collaboration with Merck & Co. in amyotrophic lateral sclerosis and frontotemporal dementia.
The combined company will be led by the current Kineta management team, including Kineta CEO Shawn Iadonato and President Craig Philips. Current Kineta shareholders are expected to own about 85% of the combined company, while existing Yumanity shareholders are expected to own about 15% of the combined company.
"After evaluating Yumanity's strategic alternatives, management and our Board of Directors believes that the proposed transactions are in the best interest of Yumanity's stockholders," said Richard Peters, President and CEO of Yumanity. "We are excited that our lead clinical-stage neurology asset and unpartnered assets will continue to be developed and we are very enthusiastic about Kineta's innovative oncology pipeline."
"The proposed merger with Yumanity is a unique opportunity for Kineta to build a leading public immuno-oncology-focused company with a diversified pipeline of new treatments for cancer patients," said Shawn Iadonato, Ph.D., CEO of Kineta. "Kineta has demonstrated expertise in developing novel immunotherapies that will enable us to advance our lead programs towards multiple milestones over the next 18 months."
Kineta's Board of Directors unanimously approved the definitive merger agreement with Yumanity. The transactions are expected to close in the second half of 2022, subject to customary closing conditions, including approval by Yumanity shareholders.
About Kineta
Kineta is a clinical-stage biotechnology company with a mission to develop next-generation immunotherapies that transform patients' lives. Kineta has leveraged its expertise in innate immunity with an intent to develop first or best-in-class immunotherapies that address the major challenges with current cancer therapy. Kineta has been supported by institutional investors including CBI USA, Genetox Co. Ltd., RLB Holdings, Yulho Co. Ltd., Humedix Co. Ltd. and others. For more information, please visit www.kinetabio.com.
About Yumanity Therapeutics
Yumanity is a clinical-stage biopharmaceutical company dedicated to accelerating the revolution in the treatment of neurodegenerative diseases through its scientific foundation and drug discovery platform. Yumanity's drug discovery platform enables the company to rapidly screen for potential disease-modifying therapies by overcoming the toxicity of misfolded proteins associated with neurogenerative diseases. Yumanity's pipeline consists of programs focused on Parkinson's disease, Lewy body dementia, multi-system atrophy, amyotrophic lateral sclerosis (ALS or Lou Gehrig's disease), frontotemporal lobar dementia (FTLD) and Alzheimer's disease. For more information, please visit www.yumanity.com.
Source: Geekwire & Global News Wire
---