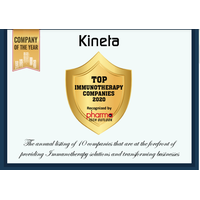 Seattle, WA -- (Sep 15, 2020)

Kineta is pleased to announce that the company was nominated as one of the top 10 Immunotherapy companies in Pharma Tech Outlook's Top Immunotherapy Companies of 2020. Additionally, Kineta was selected as the "Company of the Year" in this annual listing due to our innovative research focus on innate immunity, novel anti-VISTA program and our first-in-class chronic pain program that is partnered with Genentech.

Pharma Tech Outlook showcases cutting-edge companies that are developing novel immunotherapies and are transforming businesses. Kineta joins an impressive list of innovative companies including Moderna, BioXcel and Immunovant.

Pharma Tech Outlook is a monthly publication that has been a pioneer in bringing forth real-world health care solutions, news, product trends, and much more to their subscribers. The magazine brings forth a clear insight into drug design, development, manufacture, evaluation, and dosage of drug delivery systems including breakthroughs in pharmaceutical infrastructure, tools, and equipment.

"I am proud that Kineta has been selected for this honor", said Kineta CEO Shawn Ladonato.
"This recognition speaks to the quality of the scientific team and reflects the innovative work at the company as we look to develop novel best in class immunotherapies for patients."

To read the Kineta Pharm Tech Outlook story, click on the link below:

Kineta: Pharma Tech Outlook Company of the Year

To read about the Top 10 Immunotherapy companies, click on the link below:

Pharma Tech Outlook Top 10 Immunotherapy Companies 2020
Keiretsu Capital identified and invested in Kineta, as a life-science company that could bring a difference in the healthcare industry. Kineta identified a huge unmet medical need and developed novel immuno-therapies that could transform patient's lives in oncology, neuroscience, and virology. We are confident in this company and team; they continue to meet their milestones and deliver on targets." said Nathan McDonald, Managing Partner and CEO of Keiretsu Capital.
About Keiretsu Forum
Keiretsu Forum, the world's leading angel investor network with over 1,500 investors in 38 chapters on 3 continents. Keiretsu Forum has invested more than $500 million into more than 700 companies since inception. Keiretsu Capital administers funds on behalf of its Limited Partners - the Co-Investment & Opportunities Fund creates a diversified portfolio of technology start-ups backed by top tier angel groups and pursues the high upside value potential in these dynamic investment opportunities while promoting the sharing of risk inherent in any early-stage venture.  The firm is based in Seattle and San Francisco and its principals are veteran Silicon Valley and technology investors Randy Williams, Matthew C. Le Merle, and Nathan McDonald.
For more information please visit www.keiretsuforum.com or contact us.

About Kineta
Kineta, Inc. is a clinical-stage biotechnology company committed to developing disruptive life science technologies that address unmet patient needs. We have leveraged our expertise in immunology to advance a focused pipeline of investigational drugs in oncology, neuroscience and biodefense. We actively collaborate with a broad array of private, government and industry partners to advance our innovative products.
For more information on Kineta visit our website, www.kinetabio.com, follow us on Twitter at @kinetabio, LinkedIn and Like us on Facebook.
---