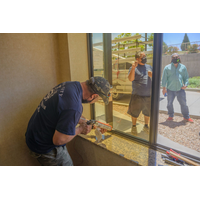 Los Alamos-based UbiQD, an advanced materials company, has started installing energy-generating windows on commercial buildings.
The company's headquarters, a hotel and the U.S. Department of Energy's National Renewable Energy Laboratory in Golden, Colorado received the high-tech window treatment, according to a release from UbiQD.
The installations serve as pilots for one of the company's products, two-piece windows made with glass that is laminated with its "quantum dot" technology in the middle. When the "dots" release protons which can be harvested by the windows, outfitted with solar cells, to create electricity.
The window trials aim to test parameters such as window orientation, time of day, seasonality, temperature and manufacturing, the release says. The windows were "made with support" from window manufacturer Glaz-Tech Industries in Albuquerque, the release adds.
UbiQD plans to begin deploying more solar windows next year, with additional projects slated for New Mexico, Colorado and Washington, according to the release. The company was founded in 2014 and also offers windows for greenhouse operations and a special kind of ink that acts as a security measure to combat counterfeit items.
The startup also announced a $7 million investment round in December 2020. The round included $4.5 million in new investment plus a previously-secured convertible note, founder and CEO Hunter McDaniel previously said.
Investors included Scout Ventures, which confirmed that it co-led the round, as well as Santa Fe's Sun Mountain Capital, Plug and Play Ventures and others, according to UbiQD.
Source: https://www.bizjournals.com/albuquerque/inno/stories/news/2021/11/02/ubiqd-debuts-electricity-producing-windows.html
---