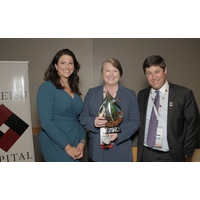 OtoNexus Medical Technologies (OtoNexus) was voted the Most Valued Company by hundreds of investors attending the Keiretsu Angel Capital Expo. OtoNexus was selected from twenty companies who presented and exhibited at the Expo.
OtoNexus is revolutionizing assessment of middle ear infections through the development of a new ultrasound-based medical device. According to OtoNexus CEO Caitlin Cameron, "we're proud to be chosen by so many angel investors and Keiretsu Forum members, and appreciate their votes of confidence in supporting the development of a device that should have a profound impact on patients, doctors and ultimately the entire healthcare industry." In children, middle ear infections are the #1 indication for which antibiotics are prescribed, and the #1 cause for surgery, Cameron said. Currently, there is a 50% error rate in the diagnosis of middle ear infections in children, particularly in differentiating viral from bacterial infections, leading to an estimated $10-15 billion in annual medical costs in the United States alone. OtoNexus' winning device shortens diagnosis time, reduces misdiagnosis, helps clinicians avoid unnecessary antibiotic use through the innovative use of ultrasound technology, and reduces unnecessary surgeries.
Keiretsu Forum is among the world's largest angel groups and was recognized by Pitchbook for the third year in a row as the #1 "most active global investor by deal count" providing a record member investment of $54 million for 78 companies in 2018 in the northwest region. OtoNexus was chosen as an investment for Keiretsu's angel members as well as the Keiretsu Capital Funds, which co-invests in promising companies. To date, OtoNexus has raised in excess of $15 Million in angel capital as well as grants from the National Institutes of Health (NIH) and National Science Foundation (NSF) Small Business Innovation Research (SBIR) programs and other organizations.
Middle ear infections, or otitis media, is the number one indication for which antibiotics are prescribed for children, and the number one cause for surgery in childhood, costing $15+B annually in the US and resulting in 30M annual doctor visits in the US alone. Current technology is unable to accurately determine the presence, much less the type, of middle ear infection. Clinical studies show a diagnostic error rate in ear exams averages 50%. This leads to significant over-prescription of antibiotics, over-referrals to specialists, and unnecessary surgeries. OtoNexus is developing a simple and sensitive medical device to provide quantitative data to instantly and accurately diagnose both presence and type of middle ear infection, providing confidence in determining whether an antibiotic is appropriate.
The OtoNexus ultrasound device will be marketed to pediatricians and other primary care physicians and place the tools for more accurate diagnosis into the hands of the very first clinician the patient sees. This will reduce costs by decreasing both antibiotic usage and unneeded specialist referrals and will also decrease required physician time by enabling a nurse or other physician extender to perform the test for middle ear infections.
---