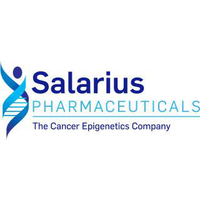 Salarius Pharmaceuticals, Inc. (Nasdaq: SLRX), a clinical-stage biopharmaceutical company developing potential new medicines for patients with sarcomas, pediatric cancers, and other hematologic and solid tumors, today announced its inclusion in the FTSE Global Micro Cap Index. Salarius' inclusion in the FTSE index will be effective after the U.S. market opens today, Monday, September 20, 2021.
"The addition of Salarius to the FTSE Global Micro Cap Index is the latest event in what has been an exceptional year for the company, highlighted by the strengthening of the company's financial position and significant progress in our clinical programs," stated David Arthur, Chief Executive Officer of Salarius Pharmaceuticals. "The FTSE Global Equity Indexes are widely used by investment managers and institutional investors for index funds and as benchmarks for active investment strategies. This listing will help us pursue our goal to drive long-term shareholder value by expanding awareness of our company within the investment community, increase the liquidity of our stock and broaden our shareholder base."
The FTSE Global Micro Cap Index is part of the FTSE Global Equity Index Series (GEIS), which includes 16,000 large-, mid-, small-, and micro-cap securities across 49 developed and emerging markets globally. As of July 30, 2021, The FTSE Global Micro Cap Index had a net market capitalization of $1.89 trillion and included 8,832 constituent companies. Companies domiciled in the U.S. represent 47% of this index, while globally, the healthcare industry constitutes 17.65% of the index.
About FTSE Russell:
FTSE Russell is a global index leader that provides innovative benchmarking, analytics and data solutions for investors worldwide. FTSE Russell calculates thousands of indices that measure and benchmark markets and asset classes in more than 70 countries, covering 98% of the investable market globally. Approximately $17.9 trillion is currently benchmarked to FTSE Russell indexes that are used by institutional and retail investors globally. FTSE Russell is wholly owned by the London Stock Exchange Group. For more information, visit www.ftserussell.com.
About Salarius Pharmaceuticals
Salarius Pharmaceuticals, Inc. is a clinical-stage biopharmaceutical company developing cancer therapies for patients in need of new treatment options. Salarius' lead candidate, seclidemstat, is being studied as a potential treatment for pediatric cancers, solid tumors and other cancers with limited treatment options. Seclidemstat is currently in a Phase 1/2 clinical trial for relapsed/refractory Ewing sarcoma and select additional sarcomas that share a similar biology to Ewing sarcoma, also referred to as Ewing-related or FET-rearranged sarcomas. Seclidemstat has received Fast Track Designation, Orphan Drug Designation and Rare Pediatric Disease Designation for Ewing sarcoma from the U.S. Food and Drug Administration. Salarius is also developing seclidemstat for several cancers with high unmet medical need, with a second Phase 1/2 clinical study in hematologic cancers. Salarius has received financial support from the National Pediatric Cancer Foundation to advance the Ewing sarcoma clinical program and was also a recipient of a Product Development Award from the Cancer Prevention and Research Institute of Texas (CPRIT). For more information, please visit salariuspharma.com or follow Salarius on Twitter and LinkedIn.
Source: https://finance.yahoo.com/news/salarius-pharmaceuticals-added-ftse-global-113300965.html
---