Keiretsu Forum: The World's Largest & Most Active Angel Investment Network
---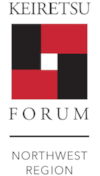 The word "Keiretsu" stands for a strong collaborative group, the culture in which our forum thrives. Founded in 2000, Keiretsu Forum is the world's largest angel investor network with over 2,500 accredited investor members throughout over 50 chapters on three continents. Keiretsu Forum Members collaborate in the due diligence of presenting companies, but make individual investment decisions with $750m invested in over 1,000 companies to date ($300M in Northwest) in technology, consumer products, life sciences, real estate, and other high growth segments. Presenting entrepreneurs consistently find high value in our extensive resources, feedback, mentoring, and funding while Investor Members enjoy well-screened, quality deal flow, group mindshare in evaluating deals, and association in a powerful, intelligent group of professionals. Additionally, the Keiretsu Forum community is strengthened through angel investor education events, social opportunities, and charitable giving. Overall, Keiretsu Forum provides entrepreneurs and investors with an active, credible marketplace for deals to get done.

The "Forums"
Our goal is to fund great companies. Each month, our six Forums throughout the Northwest (Seattle, Kirkland, Tacoma, Portland, and Vancouver B.C.) feature four carefully selected startup companies with 25-minute presentations plus 2-3 past presenting companies with shorter update presentations. Companies vary in industry, each company is usually seeking funding between $250K and $2 million, and Q & A sessions are part of each presentation.
After all presentations, presenters leave the room and the remaining group of Keiretsu Investor Members discus the pro's and con's of each company as well as potential issues to address in the due diligence process. At the end, presenting companies return to the room for a final short round of questions. Often it is very interesting to be in a room with many successful, insightful investors from such diverse backgrounds interacting with truly unique startup companies and their CEO's.
Social Opportunities
Check out photos from a few of Keiretsu Forum's social events from this past year, including our recent Victory Party in recognition of our growth and accomplishments, winter holiday festivities, Mariners games, and our Annual Summer Family Picnic! A calendar of our upcoming events is available on
our
Events Page
.
Sponsors