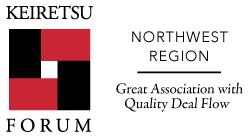 Benefits to Investor Members
Keiretsu Forum is the home of swarm intelligence, the result of a culmination of years of investing experience woven among a myriad of business and entrepreneurial backgrounds. This is critical in the area of angel investing, where often there is no current validation of a company's value proposition. Members from diverse business environments are able to immerse themselves in a pool of wisdom and resources in making investment decisions. Members enjoy mutual support and fellowship through monthly forums and social events, as well as an ongoing relationship with Keiretsu Forum staff, before and after investments have been made. More benefits include:
Well-screened, diverse, quality deal flow
"Swarm Intelligence" in evaluating deals at the forums
Collaboration in Due Diligence while making individual investment decisions
A disciplined, streamlined process to Angel Investing backed by powerful research
Educational events with high-caliber speakers addressing significant investment topics
Social opportunities
Philanthropic opportunities
Association in a powerful, influential group of professionals
Unlimited access to Keiretsu Members, expertise, and events throughout our 26 worldwide chapters
Keiretsu Forum provides entrepreneurs and investors with an active, credible marketplace for deals to get done.
Keiretsu Forum Member Profile
A Keiretsu Forum Member is:
An active accredited private equity investor
A trusted, honest, and respected member of the business community
A contributor of time, wisdom, and expertise to our funded and soon-to-be-funded companies
Enjoys building relationships with other members and presenting companies
Keiretsu Forum Membership is by invitation only. Keiretsu Forum members are accredited investors as defined in Regulation D under the 1933 Act and under other applicable securities laws and regulations. Keiretsu Forum is not a fund and does not invest as an LLC.
Join a Powerful Community
The Keiretsu Community is comprised of mostly successful serial entrepreneurs who are active private equity investors, C-level business leaders, and institutional partners, all with diverse and deep industry expertise in a variety of industries including software, telecom, life sciences, biotech, real estate, mobile applications, gaming and entertainment, consumer products, retail, and IT. We enjoy close relationships with VC firms, investment banking institutions, universities, and government institutions. The strong diversity in our membership and associations enable "swarm intelligence" in assessing deal flow and facilitating access to talent, technology, and resources to establish a successful venture.
Members understand the complexity, risks, and rewards associated with early stage funding and, when brought together during monthly forum and social activities, are able to strengthen ties of mutual interest, fellowship, and support.