(External) Venture Velocity: Launch & Learn Workshop Fall 2018
Register Now!
Or paste this link in your browser's address bar: https://www.eventbrite.com/e/venture-velocity-launch-learn-workshop-fall-2018-tickets-8818463261
Are looking to build a great company, either as a startup or an existing business?
Did you know that getting good strategic advice from outside experts is one of the best predictors of long-term success?
That's why you won't want to miss this opportunity to directly engage with local advisors in the key areas that lead to business success.
The free Launch & Learn workshop is where you can ask questions of experts, network with new people in the venture community, and enjoy some good food and drink, too!
You'll get a chance to hear sage advice from each member of the Venture Velocity group, and then drill down with your specific questions on either of two panels on:
* Funding Your Business
* Scaling Your Business
Each panel will tackle your specific questions and speak to them from a breadth of experience to help you avoid common pitfalls and accelerate your path to success.
Plus you'll leave with a useful handout assembled by our team of specialists addressing the "Top Ten" issues in over 15 different aspects of managing and scaling your business. Topics include: legal, finance, marketing, insurance, sales, team building, and many more.
Light food and beverages will be provided.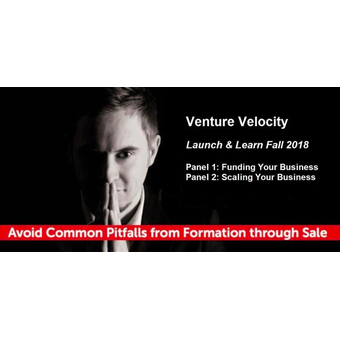 thinkspace Seattle 1700 Westlake Ave N Suite 200, Seattle, WA 98109, USA