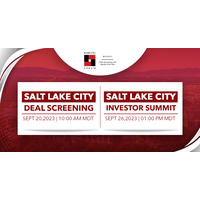 Over 75 investors and family offices will attend the much-anticipated event at Alta Club, Salt Lake City, on September 26th to foster innovation in the region's early-stage companies.
SEATTLE, Washington, September 11, 2023 — Keiretsu Forum Northwest and Rockies, part of the world's largest angel investor network, is delighted to announce the inaugural Salt Lake City Investor Summit. The event will bring together reputed investors from the Treasure Valley region for an evening of insightful keynote addresses and investment opportunities. With subsequent Investor Summits in the pipeline, Keiretsu Forum will continue to provide an exceptional platform for Salt Lake City's angel community to facilitate innovation in the region through an extensive member network.
The Investor Summit is scheduled for Tuesday, September 26th, from 1:00 PM to 5:00 PM MT at the Alta Club in Salt Lake City. It will feature three keynote speakers and dynamic presentations from six exciting companies. Also on the agenda are Q&A sessions with a select group of startups followed by a social hour reception. The evening promises to feature quality thought leadership insights and quality deal flow — which are staples of Keiretsu Forum investor events.
The program includes an address on "Key Insights for Successful Life Science Investing" by Gregory Critchfield, Chairman and CEO of Sera Prognostics. Ted McAleer, Board Member at Park City Angels, is scheduled to deliver the final keynote. Guests are encouraged to attend with their partners or spouses as the evening will be an amazing occasion for social opportunities.
Building up to the main day, Keiretsu Forum Northwest and Rockies will also be conducting the Salt Lake City Deal Screening virtual event. This will be held on Wednesday, September 20th from 10:00 AM to 1:00 PM MT. Deal Screening will feature presentations from six to eight dynamic startups.
To register for the deal screening and summit please visit – k4northwest.com
About Keiretsu Forum Northwest & Rockies:
Keiretsu Forum Northwest & Rockies is the Pacific Northwest portion of Keiretsu Forum. It includes chapters in Vancouver (Canada), Denver/Boulder, Bellevue, Seattle, Salt Lake City/Boise, and Portland. Keiretsu Forum Northwest & Rockies has more than 400 members and has invested over $500 million since its founding in 2005. For more information, visit www.k4northwest.com
---