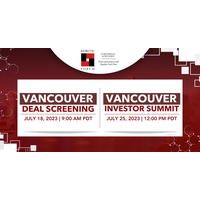 Seattle, WA - Keiretsu Forum Northwest is proud to announce two exceptional hybrid events – The Vancouver Deal Screening and The Vancouver Investor Summit that aims to foster the angel ecosystem in Vancouver and British Columbia. These exclusive gatherings will provide a unique platform for Investors to explore and evaluate high-quality deal flow and potential investment opportunities. While providing startups in the region a significant boost in raising capital.
The Vancouver Deal Screening event, set to take place on Tuesday, July 18th, 2023, at the SFU VentureLabs in Vancouver, BC, Canada, promises to showcase a lineup of visionary innovation and transformative startups. Attendees will have an opportunity to review the deal flow and vote for their favorite startups to present at the Vancouver Investor Summit. The event will see engaging Q&A sessions with seasoned investors for an interactive and dynamic environment to review startups.
Building on this momentum, the Vancouver Investor Summit will be held on Tuesday, July 25th, 2023, from 12:00 PM to 5:30 PM at The Vancouver Club. The event will bring together investors, family offices, and institutional investors from across Canada to watch pitch presentations from 6 to 8 startups and growth-stage companies. The one-day event will also feature an exceptional lineup of influential speakers. The Vancouver Investor Summit aims to bring together the largest gathering of family offices, angel, private equity and institutional investors in British Columbia, Canada.
Registration for both events is now open and can be completed through the official website. Attendance is free of charge, offering an exceptional opportunity for like-minded professionals to connect within Vancouver's vibrant entrepreneur and investment community. Secure your spot today and take advantage of this unparalleled occasion to expand your network, gain valuable insights, and be part of the driving force behind tomorrow's business innovations.
For further information, please contact:
Courtney Ebberson
Director Of Events
Keiretsu Forum Northwest & Rockies
cebberson@keiretsuforum.com
About Keiretsu Forum:
Keiretsu Forum is the world's largest angel investor network, bringing together a global community of high-net-worth individuals, venture capitalists, corporate executives, and institutional investors. With chapters spanning more than 50 cities worldwide, Keiretsu Forum offers an unparalleled platform for entrepreneurs and investors to collaborate, access capital, and achieve their business objectives. For more information, visit - https://www.k4northwest.com/
---