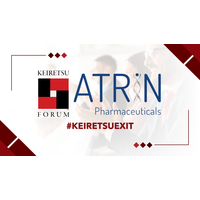 #KeiretsuBacked Atrin Pharmaceuticals get acquired by privately held biotechnology company Aprea Therapeutics.
SEATTLE, WA, July 7, 2022 – We are pleased to announce that Atrin Pharmaceuticals, a Keiretsu Forum portfolio company, has been acquired by Aprea Therapeutics. Aprea Therapeutics is a biopharmaceutical company focused on the development and commercialization of novel cancer therapies targeting DNA damage response pathways. With the acquisition of the Atrin, Aprea intends to shift its primary focus to the ATR inhibitor ATRN-119, which will be studied as both a monotherapy and in combination with standard of care in Phase 1/2a clinical trials in solid tumor malignancies.
"Aprea has explored a range of strategic alternatives to maximize shareholder value and we believe the acquisition of Atrin represents an opportunity to create substantial value for Aprea shareholders," said Christian Schade, Chairman and Chief Executive Officer of Aprea. "The founders of Atrin are pioneers in the development of novel oncology compounds in the DNA damage pathway. We are excited to work with the Atrin team to begin clinical development of Atrin's lead ATR program over the coming months, hasten the development of its differentiated WEE1 program, and support a robust platform to build a pipeline of novel inhibitors of the DDR pathway."
"We are excited to join forces with Aprea and expedite the clinical development of our lead programs and drug development platform," said Oren Gilad, Ph.D., the former Chief Executive Officer of Atrin. "Aprea's knowledge of the p53 pathway in oncology is complimentary to Atrin's in-house expertise in developing novel targets in the DNA damage response pathway. With supportive resources, we look forward to moving our programs into clinical development to better understand the importance of our robust synthetic lethality platform."
About Atrin Pharmaceuticals
Atrin Pharmaceuticals is a private biopharmaceutical company pioneering the discovery & development of proprietary molecules targeting DNA Damage and Response (DDR) pathways to treat a broad spectrum of cancers associated with synthetic lethality and the deregulated DNA Damage Response. Atrin's lead product is ATRN-119, a novel, potentially best-in-class small molecule ATR inhibitor. Atrin plans to initiate a first-in-human trial for ATRN-119 in early 2022. For more information, please visit the company website at www.atrinpharma.com
About Aprea Therapeutics, Inc
Aprea Therapeutics, Inc. is a biopharmaceutical company headquartered in Boston, Massachusetts with research facilities in Doylestown, Pennsylvania, focused on developing and commercializing novel cancer therapeutics that target DNA damage response pathways. The Company's lead program is ATRN-119, a Phase 1-ready small molecule ATR inhibitor being developed for solid tumor indications. For more information, please visit the company website at www.aprea.com.
Source: Global News Wire
---