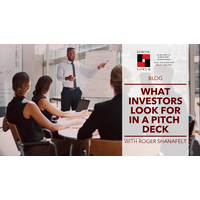 What makes an investor decide to write a check? An impressive pitch deck? The company's go-to-market strategy? Market valuation? Is it the strength of the team or the passion of the CEO?
Investors typically evaluate hundreds of areas when planning to invest in a company. As an entrepreneur seeking funding, consider what needs to be done to attract them. What factors will make them invest in your business?
Roger Shanafelt has been on both the entrepreneurial and investor side of things. He joined our Keiretsu Forum Northwest and Rockies Forums in May and shared his views on a company's go-to-market strategy and scale. His approach is to focus on the customer and have a customer-centric mindset. He states that if you meet them where they are, and draw them into your product or solution, you are more likely to get them to engage with your offering.
Investors evaluate thousands of pitch decks over their lifetimes. If you want to secure funding, here's what you need to spend a considerable amount of time perfecting:
A Go-to-Market Strategy for your product and/or service
Roger defines it as a tactical action plan that outlines the steps needed to succeed in a new market or with a new customer. Its purpose is:
To help you articulate why you're bringing your product to market, who it's for, and how you're going to tackle the task of getting customers to engage and make a purchase.

It forces you to think about all the problems your customers will face when presented with your product.

It acts as a tool for coaching teams that is comprehensive enough to add value, yet flexible enough to be updated as feedback is received.
The main purpose of a GTM strategy is to help you (the entrepreneur) develop the reason why you launched your product in the first place! It helps you define whom it's for and keeps users engaged. It also forces you to think deeply about the issues your customers face when presented with your product. In turn, it helps to guide your team to successfully market and sell. Accepting feedback from users and your team is critical, as the feedback received will only help you refine your strategy. At this stage of your entrepreneurial journey, be sure to set expectations, meet them, and even exceed them.
So, what should be the core components of an entrepreneur's pitch deck?

A well-explained product-market fit
It is very important to customize a product or service according to the needs of the customer. Your product should solve the problem they face. Start by digging deep into the "why" this product was developed, what are the real problems and what are the real benefits? How can you verify that the users want it?
Roger shared an example of his learnings with the company, DocuSign, where he recalled that they needed to connect the company to something bigger than just dealing with paper. The strategic solution they were looking to advance was the electronic signature market. They figured to solve this issue; they would need to strategize the use case first. So, they initially focused on getting into financial services, specifically the process of issuing home origination loans for refinancing or mortgages.
This is an example of industry-specific product-market fit. It is important to understand the use case and be able to translate it into a value proposition. Roger recalls a colleague saying that when you talk about your technology, if the first thing you talk about how different and unique it is, you miss the opportunity to adjust its positioning in the market, especially with the competition. Investors often look to see if entrepreneurs fully understand their position in the market, who they are and how they are different from everyone else.
Key questions for entrepreneurs:
What problems does the product solve for people?

How do you validate requirements?

How do you know that your users want and need it?

Have you tested and validated the idea with real people?

Is there a clearly articulated value proposition(s)?

Where does the product fit in the market?

How is the product priced?

What is the long-term thinking about strategic objectives?
A comprehensive target audience
It's important to pay attention to what issues your problem will solve. As an entrepreneur, it is imperative that you have the ideal customer profile well thought out. You should have a solid understanding of attributes such as demographics, geography, industry, income, and number of employees. And if your product is a technology, do you understand the right tech stack to go after? Because you design the sales experience in the customer-buyer journey, you want to let everyone on the buyer journey understand your product and how the solution can make your customer's life easier. Investors commonly look for the maturity of that understanding in the entrepreneur when assessing their knowledge of who the target market is.
Key questions to consider:
Who is experiencing the problem that the product solves?

How much are users willing to pay for the solution?

What pain points and frustrations does it alleviate?

What is the ideal customer profile?

Who are the buyer personas?

Who is involved in the buyer's journey?
A plan to beat the competition and generate demand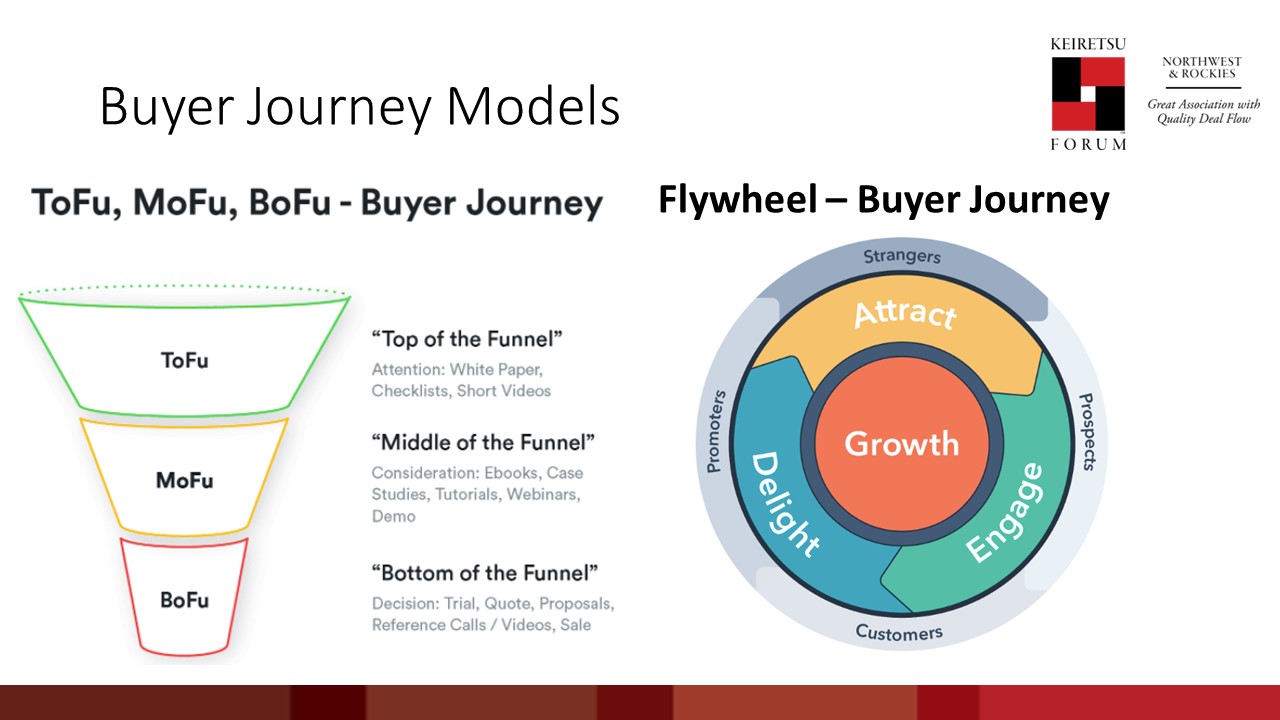 Roger said that when he looks at the buyer's journey, he usually sees in the deal flow that most early-stage companies divide the buyer's journey into three categories: top of the funnel, middle of the funnel, and bottom of the funnel. He doesn't see this approach as a very sophisticated model and prefers to see entrepreneurs think more about the "flywheel buyer journey" of marketing-sales partnerships. This approach helps customers at different stages, some in the beginning and some deep in the buying process. The flywheel buyer journey focuses on meeting users where they are, whether they are strangers, potential customers, or existing customers (hopefully promoters).
Effective distribution model
Roger explains that marketing and sales dynamics are the most important factors in understanding how you will enter the market early. When he wanted DocuSign to be a verb like Xerox was to copy, he set an example and wanted people to say DocuSign to e-signature and knew it would take a long time to develop it, so they focused on direct selling, going-to-market strategy, and promoting DocuSign's usage strategy for the benefits of electronic filing.
As an entrepreneur, you need to understand how it fits into your strategy and connect it to how you build sales and demand. He also places a strong emphasis on-demand generation. That means getting the attention of people in need, whether they're a potential client, to help them find our product or solution so we engage with them where they are.
Investors also should have a thorough understanding of the demand generation of the company. Where does it come from? And what are the channels? Does the entrepreneur understand the cost per lead and customer acquisition cost? Do you understand conversion rates? Is the process repeatable and scalable?
Key pointers to consider:
Marketing vs Sales Dynamic

Demand Generation

Sales
On the sales side of the equation, we're looking at what is the selling/staffing model. Is it self-serve, inside, field, channel, or a combination of all? This is where the buyer journey comes in, how many people, and whom do you need to talk to in your ideal customer profile to ensure that they will go through that buying journey. In a way that is ever increasingly enjoyable and the delivering trust as they go through the sales cycle. Are there any friction points, and if there are what are they doing to deal with them? Conducting pilot programs will also help you get access to data and that can affect and help improve your process. It is always good to have a good handle on your sale cycle and constantly review the numbers to ensure that they are improving over time. That will ensure the success of your company in the long run.
About the Speaker: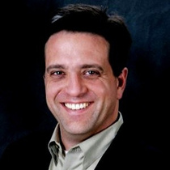 Roger Shanafelt has over 25 years of building high-performing sales teams with a broad range of marketing, business development, and engineering experience in a variety of leadership positions at software/SaaS organizations such as Home Network, Exodus, Loudcloud, Myrio, DocuSign, and Fullcast. His go-to-market approach applies his ability to rapidly identify patterns in the sales cycle of successful customer acquisitions, defining success metrics, instrumenting technology platforms to report on said metrics, then collaborating with cross-functional teams to build and continuously refine a repeatable and scalable sales process from lead to renewal. Click here to watch his keynote address.
---