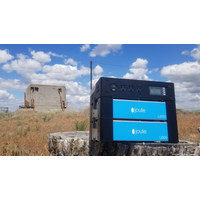 By Tony Lystra – Tech Editor, Puget Sound Business Journal
Aug 27, 2020, 11:57am EDT
Earlier this year, Joule Case, the Seattle portable battery manufacturer, thought it had found a stable, reliable market in music festivals.
Last year, the company powered nearly a half-dozen music events, including the Treefort Music Fest in Boise and the Nocturnal Wonderland rave festival, which hosts events in Southern California and Texas.
Historically, the festivals have relied on diesel generators, coughing out plenty of carbon emissions as they power lights, video displays, soundboards, amps, and monitors.
Joule Case has a solution for that: modular, stackable, and scalable battery configurations that supply all the power diesel generators produce and then some without the greenhouse gases.
Until the pandemic hit, the music festival season had been scheduled to begin in March, and Joule Case was lined up to power more than 100 of them.
"If you were to tell me in January that there would be an international pandemic and all the customers and all the music festivals lined up would be zero — a big giant goose egg for music festivals — I would have said, 'Well, Joule Case is not around anymore,'" said James Wagoner, the company's co-founder, and CEO.
Rather than quitting, Wagoner and his partner, Alex Livingston pivoted the company toward new markets. Since Joule Case's beginning in 2015, the partners had been discussing what they see as their batteries' potentially endless uses.
"The vision of Joule Case is to be, as we call it, the Standard Oil of the green revolution," Wagoner said.
That means the batteries can be used to store solar power, provide backup energy to homes in case the grid goes down, and for camping trips, food trucks, medical devices, and building contractors.
"We had some of these conversations back in the day. We had to restart those conversations," Wagoner said. "It's just finding those different sales channels and resellers, telling a different story."
Since the Covid-19 pandemic gripped the U.S. economy, Joule's investors have been channeling sales opportunities from those new markets to the company, which, Wagoner said, has had to do hardly any cold sales or marketing during the pandemic.
Last week, Joule closed an oversubscribed, second-round convertible note offering, raising $500,000. In all, Wagoner said, the company has raised $1.5 million, largely from angel investors, including Park City Angels and Keiretsu Forum, the international community of private equity angel investors, venture capitalists, and corporate and institutional investors.
Had COVID not killed this year's music festival season, "Joule Case would have been a much larger company than it is right now," Wagoner said. Joule had to lay off four music industry specialists because of the pandemic.
Thanks to those new sales channels, he said, Joule now employs five people and is hiring to fill another two positions.
Since last year, the company has sold more than 200,000 batteries, which are assembled in the Boise, Idaho, suburb of Garden City. A single food truck spent $20,000 on Joule batteries to replace its diesel generator, Wagoner said.
The batteries, he said, come in various sizes and configurations and can be assembled like Lego blocks to suit a customer's power needs. Costs typically range from $700 to $80,000. A single $700 Joule battery can power a TV for eight hours.
The company is currently talking with electric vehicle manufacturers about using the batteries in cars and trucks. In fact, Wagoner and Livingston's previous company, R2EV, built batteries for use in electric vehicles.
Among the markets that have emerged from the Covid outbreak are video conference funerals, where portable power is needed to power cameras and TV monitors.
One hospital in California is using a Joule battery to power a portable video conferencing system that can be wheeled into quarantined patients' rooms so they can talk with their family members.
And then, Wagoner said, there are coders and executives from Google and other Silicon Valley tech companies, who are working from home and facing an unstable California power grid.
"We are seeing significant demand for our power," Wagoner said. "It's sometimes good to not know what the future is so you're not overwhelmed by it."
About Keiretsu Forum
Keiretsu Forum, the world's leading angel investor network with over 1,500 investors in 38 chapters on 3 continents. Keiretsu Forum has invested more than $500 million into more than 700 companies since inception. Keiretsu Capital administers funds on behalf of its Limited Partners - the Co-Investment & Opportunities Fund creates a diversified portfolio of technology start-ups backed by top tier angel groups and pursues the high upside value potential in these dynamic investment opportunities while promoting the sharing of risk inherent in any early-stage venture.  The firm is based in Seattle and San Francisco and its principals are veteran Silicon Valley and technology investors Randy Williams, Matthew C. Le Merle, and Nathan McDonald.
For more information please visit www.keiretsuforum.com or contact us.
About Joule Case
Joule Case is the only power solution that works for consumers and commercial, industrial, and special event applications.
Know more - https://joulecase.com/
---