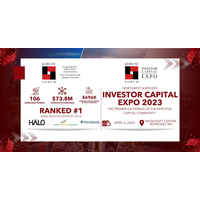 Private Investors and Family Offices continued to fund innovation through 2022 as Keiretsu Forum Northwest and Rockies prepare to host the Spring 2023 Investor Capital Expo.
Seattle, WA - March 9, 2023 - Keiretsu Forum Northwest and Rockies, the region's largest angel investing network, announced today that Keiretsu Forum members invested $73.8 million in 106 innovative startups that presented in 2022. This marks the highest funding generated in recent times for the group. The investments were made across a variety of industries, including technology, healthcare, consumer products, and clean tech.
To support the growth of the startup ecosystem, Keiretsu Forum Northwest and Rockies will again host its bi-annual Investor Capital Expo on April 5th and 6th at Microsoft. The upcoming Expo will feature 18 startups and growth-stage companies presenting innovative opportunities. The two-day, traditionally all-in-person event, will now provide live online event participation for the over 3,000 members of the Keiretsu Forum global network. This results in the largest organized global angel funding event that will bring together entrepreneurs, angel investors, institutional investors, family offices, and industry experts to discuss the latest trends and opportunities in early-stage investing. The Expo will also feature an award for the Most Valued Company, as voted by both the in-person and online investors participating. This year, the award is sponsored by Votegrity, the leader in combining in-person and digital online voting.
"We need private investors and family offices to be active now more than ever with the recent gut punch the traditional VC industry has suffered. Innovation needs to move forward, and our investors have the G.R.I.T. to lean in and engage with their capital and expertise," said Brianna McDonald, President of Keiretsu Forum Northwest, and Rockies. "We look forward to bringing together our members and the broader investment community to support the growth and success of the next generation of game-changing startups."
About Keiretsu Forum Northwest and Rockies
Keiretsu Forum Northwest & Rockies is the Pacific Northwest portion of Keiretsu Forum. It includes chapters in Vancouver (Canada), Denver/Boulder, Bellevue, Seattle, Salt Lake City, Boise, and Portland. Keiretsu Forum Northwest & Rockies has more than 400 members and invested over $700 million since its founding in 2005. For more information, visit www.k4northwest.com
About Keiretsu Forum
Keiretsu Forum is a global investment community of accredited private equity angel investors, venture capitalists, and corporate/institutional investors. Keiretsu Forum was founded in 2000 by Randy Williams. Today, it is a worldwide network of capital, resources, and deal flow with 55+ chapters on four continents whose members invest in high-quality, diverse investment opportunities. To date, it has invested over $1 billion in 2000+ companies. The community is strengthened through its involvement in social and charitable activities. www.keiretsuforum.com
---